Please join us as we strive to grow in Christ.
One of the ways we can grow in Christ is to be involved in actively studying His word.
During the summer, we gather in on Wednesday night group. We hope you are able to come our and take part of our summer study called "Changing Hearts and Home Through Jesus"
Rooted Bible Groups starting 02.05.20
Co-ed Bible Group-RYAN McGIFFEN LED Are you growing as
you follow Christ? Feel like you're stuck in a rut? Wondered if
there is more to this life than just waiting to die and go to heaven?
The life of the Christian is one described in scripture as a new
creation, transformed into the likeness of Christ. This class is
designed to help Christians understand how that transformation
occurs and the glory that it brings our Lord and Savior!
Co-ed Bible Group-IVAN SPENCER LED-This is a study from the OT book of Numbers. It is often overlooked but has much for us to learn regarding our faithfulness to God as we avoid wandering aimlessly through life. Here we find the walking, wandering, working, warring, witnessing, and worshiping of God's pilgrims. It is a great handbook for pilgrims in this world. The lessons the children of Israel had to learn are the lessons we need to learn, which is the reason God recorded this history for you and me.
Co-ed Bible Group-DALE PROFFITT LED-"He who abides in Me and I in him, he bears much fruit, for apart from Me you can do nothing" -John 15:5. This will be an ongoing class devoted to building teachers, leaders and servants of all kinds as we stress the repentance, obedience and growth of our classmates. We will bear each other's burdens and hold each other accountable as we study the bible for the purpose of building the kingdom of God. During this session we will deal with our own spiritual conditions and that of our church families through self-examination based upon the mirror of the scriptures.
Co-ed Bible Group–ANDREW/RACHEL BAIRD LED-Financial Peace University(FPU) is a class on money management taught by America's financial guru, Dave Ramsey. Dave and his team will walk you through the basics of budgeting, dumping debt, planning for the future and more. Join this group and experience this life-changing class. Class size is limited.
Men's Group-LED BY CHRIS LASLEY AND TRAIL LIFE TEAM-When does a boy become a man, why is that important to know and how do we help them? This class will answer these questions and more. It's not only a class for all dads with boys of any age, it's also for dad's with daughters as they pray for Godly men to be raised up in their lives. It is also for all men who would commit to being examples and encouragers to dads raising their children.
Co-ed Young Adult Group-ISAAC STEELE-Young Adults in various seasons of life gather to hang out, discuss God's Word, grow, and pray. Whether you are in college, working full time, single, married, have kids, or don't have kids – you are welcome. We are about discovering the love of God and His purpose for our generation.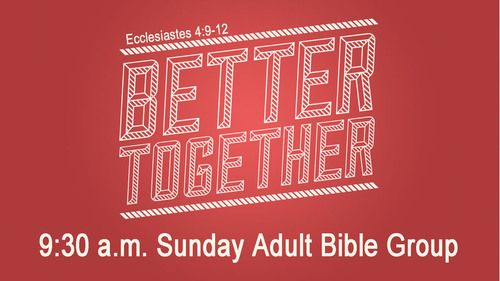 Ecclesiastes 4:9-12 tells us we are better together. This Adult Bible Group embraces this concept as we go through various books of the Bible chapter by chapter and verse by verse to glean truths from God's Word in order to apply them in our lives to be better followers of Jesus. This Sunday co-ed Bible Group meets at 9:30 a.m.
Start your Monday, Tuesday or Thursday off right by joining some other guys hanging out and studying God's word. The coffee will be ready!
At Spencer Christian Church we desire to be a church that is "So in Love with Jesus that we Grow, Glorify and Give. This Adult Bible Group strives toward the goal of spiritual growth by studying various DVD based Bible studies from national Christian authors and teachers and discussing their content. This co-ed Sunday Bible group meets at 11:00 a.m.