Please join us as we strive to grow in Christ.
One of the ways we can grow in Christ is to be involved in actively studying His word.
During the summer, we gather in on Wednesday night group. We hope you are able to come our and take part of our summer study called "Changing Hearts and Home Through Jesus"
Rooted Bible Group Descriptions
Rooted Wednesday Co-ed Bible Group-MIKE SIMPSON LED-Marriage is at once the most powerful union and the most misunderstood relationship we can experience. Join us as we work to clear up some of the confusion and discover what it takes to enjoy a marriage made in Heaven! Topics like... The difference between falling in love and being willing to love, How God intends for gender distinctions to bless us, The role parents and trusted advisors should play as we select a mate, Which views of sex will bless or curse our marriages, Practical help from the scriptures for resolving marital conflicts. Married, Single, Dating, or otherwise are welcome to attend.
Co-ed Group-LED BY Kevin and Sara Griesser-Join the Griessers as they share with us their experiences living in Turkey and their heart for unreached people. Enjoy photos, videos, stories and even tastes from Turkey, but more importantly dive into God's Word to see how every believer can tell his own story as well as God's Story. Every disciple CAN make disciples.


Rooted Wednesday Co-ed Group-DALE PROFFITT LED-This is a study praising Jesus for his indescribable gifts, precious and magnificent promises and tender care as our faithful and merciful High Priest. This study will cause you to stop regularly and be thankful for our High Priest. Jesus has commissioned Christians to be a royal priesthood, to live as priests on the earth. This royal priesthood role directly impacts how we are to behave. So we will also study how we are called to live while representing Christ.


Rooted Wednesday Women's Bible Group-DENIECE KREBS LED-Fasting to Wellness... Spiritual, Physical, and Emotional--Is fasting an option for a Christ - follower? Jesus teaches His disciples in Matthew 6... WHEN you give... WHEN you pray... WHEN you FAST.Cornerstones and commandments from Jesus to his followers that are still in effect for us today.
This class will look at nine different fasts that we find in Scripture as we also delve into the physical benefits of fasting to understand what happens in our bodies when we fast.


Rooted Wednesday Women's Bible Group-JACKIE DERUDDER LED-Come study with us on Psalm 23, The Shepherd with Me by Jennifer Rothschild. Explore the depths of God's care tucked in the Psalm you have always loved. We will look at how our Shepherd has got our back, gives us rest, guides our path, is by our side, calls you His, and brings you home.


Men's Bible Group-JOHN HODGSON LED- for men of all ages, but especially those raising sons or mentoring young men. We will learn from examples - good and bad - of men in the Bible and in poplar media. We will develop a shared vision of what the Character of a Godly Man looks like. (And we we tell stories and do some manly activities!)


Rooted Wednesday Co-ed Prayer Group-PRAYER MINISTRY-Intercessory prayer is prayer for others. The purpose of this group is to follow the leading of the Lord Jesus Christ as we intercede on behalf of the lost and petition for those that need healing and his direction in their lives. We battle for the furtherance of the Kingdom of God as we support our church leaders, ministries, and our congregation in prayer.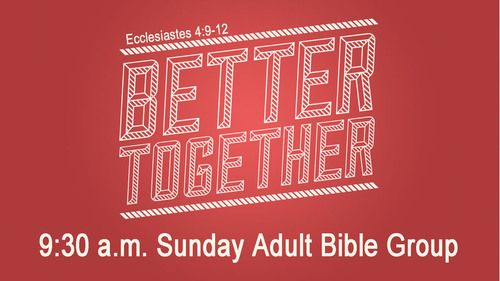 Ecclesiastes 4:9-12 tells us we are better together. This Adult Bible Group embraces this concept as we go through various books of the Bible chapter by chapter and verse by verse to glean truths from God's Word in order to apply them in our lives to be better followers of Jesus. This Sunday co-ed Bible Group meets at 9:30 a.m.
At Spencer Christian Church we desire to be a church that is "So in Love with Jesus that we Grow, Glorify and Give. This Adult Bible Group strives toward the goal of spiritual growth by studying various DVD based Bible studies from national Christian authors and teachers and discussing their content. This co-ed Sunday Bible group meets at 11:00 a.m.


Start your Monday, Tuesday or Thursday off right by joining some other guys hanging out and studying God's word. The coffee will be ready!